Linda Briggs
Cosmetic Surgery & Dentistry in Hungary

Linda Briggs in Hungary

Reviews and testimonials for cosmetic surgery - 2010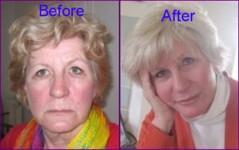 Nika - Before and after surgery
SURGERY April 2010

Face/Necklift | Temporal Lift | Fillers to lips | Liposuction to back

12 April 2010 - Diary of a face lift on Budapest, Hungary

Early start to catch train from Arundel. Had checked in online so no hold ups at Gatwick Airport.

Time for a large glass of wine and some retail therapy. Bought leggings and top in NEXT and I don't think the girl realised Hungary was in the EU as I was sold the goods Tax Free and the purchases came to £22!

Good flight - 1 baguette; 1/2 glass of wine and the Daily Mail crossword to keep me occupied.

Carolyn and driver at airport with sign with my name on it (always wanted that to happen to me sometime as had so often seen signs similar for other people at Gatwick!). Raining and cloudy - but good trip into city. Carolyn very friendly and chatty. Showed me points of interest on the way - must do some sightseeing (never usually do this and always regret it when I get home)


---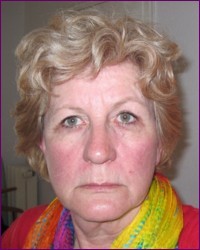 Linda Briggs in Budapest organised this trip for Nika


Taxi driver very sweet and spoke some English. The apartment is absolutely perfect - small, but has all necessary equipment and very central. EVEN SLIPPERS AND DRESSING GOWN. 1/2 bottle of champagne and food essentials. Mobile phone at my disposal and Internet connection - worked instantly - glad I listened to Carolyn's advice to bring laptop. I have shopped for some essential groceries - 1 bottle of wine; loaf of bread; and crisps. Ready to settle down to a glass or so of wine; some Hungarian T.V. and some nibbles

13 April 2010 - Diary of a face lift on Budapest, Hungary
Very early wake up - 4.30 am, but then I did go to bed at 8.30pm!

Read some of my golf magazine; had a cup of tea; read some e-mails and generally pottered about. It's raining!

Met Carolyn outside post office as arranged and took taxi to clinic. Very typical hospital as I would imagine it to be in Central Europe on the ground floor - no frills. Up in lift to 2nd floor and then its much plusher. Sit in corridor for a while waiting for consultant. See trolleys with patients going to and from theatre. See bods in surgical 'greens'; see lady with head strapping on - must be what I can expect to wear after procedure. She must have had lower face lift....can't see any bruising....good sign.

My surgeon is very pleasant. Asks me what I want.....well DOH!!!...a new face and body is what I want, but I don't think that is what he meant! Discussed surgery and I asked for an extra pull at the jaw line as it had sagged such a lot since the last lift 10 years ago....loose skin...

The hump (dowager's hump on back) was looked at and my surgeon reported that most of it was bone, but that a little fat could be sucked away. I asked him whether there would be much improvement and he reported '50%' so I decided that was 50% better then it was now and so decided to go ahead with the liposuction there.

That was it!! Off to see the nurse for blood tests and X-ray....ha....6....yes 6 vials of blood were taken and she performed an ECG ...no gown or sheet for decency, but I have no problem with that and felt very comfortable lying there topless. Oh and a wee sample too. I had 2 chest X-rays performed by a technician who did not speak any English, but used sign language and the word 'LUFT' (German for air) to explain that she wanted me to take deep breaths in for the Xray - she forgot to tell me when the first picture was done so I held my breath for so long that when she said 'LUFT' again I hadn't exhaled yet and nearly expired!!!!

Talk about a thorough examination through tests. You wouldn't get that much done even if you were due to have a liver transplant! Felt great having this MOT. It gave me confidence in the Hungarian medical system.

Had a coffee with a cake to die for with Carolyn after the medical.

Still raining - Had a mooch round the apartment for a little while, but decided I was wet anyway so might as well have a look round the local vicinity. - proper sight-seeing another day as its too grey outside. However......I found the shops! WOW!

Zara unfortunately tempted me too much and a handbag and platform clogs were purchased. It came to 42000 forints and it wasn't until I converted the amount into English currency that I realised I had spent mega bucks. Monopoly money feels much less painful to spend....so conversion is definitely not for the faint hearted!!

Bought a few souvenirs...like you do.....

The architecture is spectacular - I have fallen in love with Budapest. I just hope I will feel up to proper exploring after the operation. It would be such a shame if I couldn't have a good look around.

I haven't plucked up the courage to have a meal out on my own yet. I feel a little like "Billy no mates" eating on my own.

Back to the flat by 2pm and get a visit from the landlord plus workman. THE LANDLORD'S EYES ARE DIVINE !!!! He could have asked me anything and I would have said yes. They actually only wanted to work on a broken blind and Saturday 11 am was the time decided upon to do the work. That would be 2 days post op, but they didn't seem bothered......ok for them!

Had a two hour siesta and then decide that I must get down to some serious occupational therapy... let's face it, I had brought enough entertainment for a year! I had 2 baby jumpers to knit; a book of puzzles to get through; the whole of 'Lord of the Rings' trilogy to watch; my Ipod is charged and the computer is on and working to keep up to date with friends at home. I have the latest Penny Vincenzi blockbuster to read and I have a daily diary to keep. I also have wine in the fridge to keep me relaxed.

14 April 2010 - Diary of a face lift on Budapest, Hungary
Slept well after a marathon knitting session and a few chapters of my book. Managed to get out of the flat by 10.30am and just walked. Passed an incredibly ornate Catholic cathedral where a service was going on. Passed another church called St Mary's - ?

Somehow reached this large imposing building where everyone was walking in and out of so thought I would investigate.. It turned out to be an enormous indoor market with fresh produce of all sorts and little stalls with souvenirs and toys and clothes etc.

I then found my way down to the Danube and toyed with the idea of a river cruise but decided I would wait a few days.....but then changed my mind again and joined a gaggle of Irish tourists and got on a rickety boat.

Had a glass of wine for 300 florints- approx £1.50 ...not too bad considering, but was NOT offered a second one. The Danube is brown - not blue. It is wide and the Buda and Pest parts of the city are very impressive.

The houses of Parliament are vast .........

After the cruise - it was bloody cold on the river - i strolled back to my apartment.. I have stocked up on more wine and some bread and cheese for the next few days. The wine/alcohol should keep the bugs at bay.....that's what spirit does doesn't it! ...???!! ... and the bread should give me just enough stodge to bind me up!

Carolyn coming at around 17.30 to give me instructions for tomorrow.

Got to be at the clinic for 07.30. Hope I am first on the list Apparently I don't get any food at all all day but may get a sloppy cup of tea or coffee. That should help the diet.

My plan....let's see if I manage it ...is to have an open top bus trip around the city; a tram ride and to sample some real Hungarian food....goulash may not be genuine.

15 April 2010 - Diary of a face lift on Budapest, Hungary
This is it! Picked up at 07.15 by Carolyn in a taxi. It's raining. Very soon shown into 2-bedded room - with wide screen TV on wall; a sink and a window with little view. There is a loo with shower just outside the room for 4 people to share- very clean and modern.

My surgeon soon appears in his scrubs- exactly the same as I am wearing- made of paper in a fetching forest green. I have my face and back marked out in blue pen and told I will be off in about 15 minutes. Pre-med is given in my bum slowly and it stings so curious about ingredients.

Very soon hopped onto trolley and wheeled straight into the operating theatre. The porter physically carries me from trolley to operating table. I have a good look round - scrub nurse busy getting the instruments ready; the anaesthetist is standing by and another nurse puts the venvlon into my left wrist.. I can see another operation taking place in the theatre next door.

All looks very professional. Then the fluid starts being pumped into my vein. I see the mask ready for my nose and mouth and then....."Nika......" and its 13.15 and I am back in bed. My head is wrapped up in masses of crepe bandage I can hardly lift my head up for the weight. I have a drip and my back feels tender. Soon require some analgesia and a nurse puts some in the canula.

Carolyn comes to visit and brings me a lovely card; a rose made of marzipan and some marzipan chocolates. First pee onto a bedpan but can soon go to the loo.

The night is CRAP. Cannot sleep - never did like sleeping propped up and cannot turn and my back is sore. There is discomfort verging into pain but it can be controlled and the nurses very good at asking if I need any medication.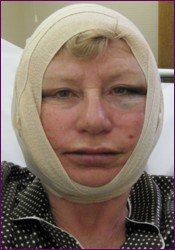 I now have a room-mate who has had her upper eyelids done - no English but very sweet and we do a lot of gesturing. Finally it' s morning and I get a menu for my breakfast choices:a roll with ham a roll with cheese & ham a roll with cheese and salam i a roll with cheese a roll with ham and salad a roll with cheese and salad....anyway you get the drift ...!!!!

I choose roll with cheese and I get roll with cheese and salad. I can have fruit juices; tea; coffee or fruit teas etc. I have lemon tea. The roll is 9" long and is too wide for me to get my mouth round. I try to break bits off but still cannot chew so abandon the attempt to eat. Not really hungry anyway

By 08.30 the crepe bandages come off and the drain is removed. I am fitted with a fetching stretch face strapping. The surgeon is in attendance. I have the most enormous black eye on the left. - nearly closed up. The lips are blue with bruising and broken in parts from bleeding...apart from that I feel OK.

The taxi is summoned by Carolyn and I go home to the apartment. After Carolyn leaves I go to bed and sleep for approx 6 hours. I get up thinking I will do some computer stuff but soon feel I want to lie down again. Carolyn comes round again in the evening to check I have everything I need.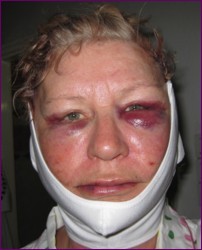 17 April 2010 - Diary of a face lift on Budapest, Hungary
Somewhat uncomfortable with 2 massive black eyes. The most uncomfortable bit is my back which had liposuction. My lips feel as though they belong to someone else, but have been stuck onto my face (had fillers in them). I can't talk very well and can't chew anything hard or lumpy: cuppa soup; tea; coffee and cold drinks are my staple diet.

Sleep; knitting and some reading but the eyes are greasy - must have put some Vaseline on when I was anaesthetised. Carolyn has taken some more photographs - I am an absolute picture of loveliness!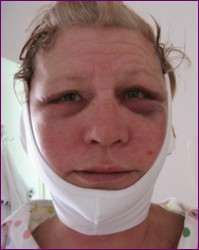 18 April 2010 - Diary of a face lift on Budapest, Hungary
Anna (oldest daughter) phoned - Brighton marathon today - flights are still grounded due to Icelandic Ash. May have to remain in Hungary for much longer than anticipated.

The incarceration is getting tedious. I have knitted and knitted. I cannot watch my DVDs as I cannot put my glasses on over the bandage.
I have had some wine - mmmm that went down well. Peter (son) and Steph (youngest) have phoned. All appears well in the UK. I looked up train times and costs in case I cannot get a flight home - early days yet. I plan to do a lot of sightseeing once the bandages come off. Tomorrow I see specialist for the post-op check up. Thursday/Friday the initial stitches come out. OH JOY!!


19 April 2010 - Diary of a face lift on Budapest, Hungary
Good night's sleep with an hour reading my book from 2.30 - 3.30am, Otherwise all good. Some discomfort but no pain in my face. The liposuction area on my back quite tender and the strapping is now really annoying and getting hot. Also the lips do not have room to move with the chin strapping....so I speak as though I have a mouth full of pebbles.... Leisurely morning on the computer answering emails and yes you guessed...more knitting.

13.45 Carolyn is at the door ready to take me to the clinic. This 'thing' really needs to come off now.. I have to wait a while as my surgeon is still in theatre.15.00 - the stuff is OFF!!!!!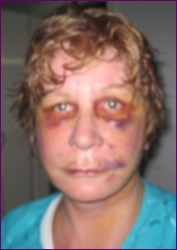 The face feels very funny and the hair is disgusting. I am very bruised and apparently reacted quite severely to the stuff that went into the lips, but the surgeon thinks everything looks fine. He did say I was a little lopsided, but reassured me that that was due to the bruising.- bloody hell ....I HOPE SO!

Straight back to the flat - I need a shower!!!!
The cleaner is cleaning the flat when I get in so I have to wait for 30 minutes whilst she gets on with it and then..........a wonderful shower and a hair wash.... Oh that feels so good.
I actually like what I see - although the yellow/blue/red skin tone is not really my preferred colour choice ....!!!
After the shower I venture out to the supermarket. Very furtive and look very suspicious as I am hunched over and hiding partially behind my silk scarf. I do get braver as I walk out of the shop and am now ready to go out again tomorrow. With dark glasses on and the hair brushed forward I can get away with looking as though I have been hit by a bus.
I am going to try a Chili Con Carne tonight- makes a change from cuppa soup. I have finished the first baby jumper for the twins my oldest daughter is expecting in September.


20 April 2010 - Diary of a face lift on Budapest, Hungary
I have walked and walked and walked and walked. Before going out I decided to do a wash in the machine....mmmmm first I couldn't get the door open, but Carolyn texted me how to do that....shoved my stuff in put the soap powder in and then presto.....NOT....couldn't read the instructions so I had a machine with dirty clothes in I couldn't wash, but more importantly couldn't get out of the machine again either.....finally got it to work

I decided to see Buda and Pest. Seen the Jewish Synagogue (is there any other kind?)and also the House of Terror which was all about Hungary's grim past 1940-1945 and 1956.

I finally returned to a little cafe just down from my flat and had a well deserved glass of wine and a mushy meal. Absolutely knackered ..... probably overdone it a bit. Need some analgesia for the discomfort.


21 April 2010 - Diary of a face lift on Budapest, Hungary
Bad night.- first night without valium or sleeping pill which was a deliberate decision on my part as I wanted to now get back to normal again. I have decided to put the mask contraption on at night as it stops the stitches catching on the bedding and is actually quite supportive. No pain on the whole just discomfort.

The eyes are now no longer puffy but still very black and blue. The chin still very swollen and very tender (a liposuction area)

I have come to the conclusion that a face lift is a real doddle compared to Liposuction....that is definitely a much more painful procedure.

More sightseeing and I have fallen in love with the city. The buildings are spectacular and there are parks and the place is just beautiful. There is so much to see and I am sure much to do, but I am not up for it really. There are statues everywhere commemorating some special person or event....absolutely marvellous!

One recommendation from me would be to take your Panadol out with you if you do the major walk about around the city etc....I personally did not need any but it may be a need for some patients.

The stitches behind my ears are prickling into my ears and head....very annoying. There is also some tugging sensation, but that is not bad.

I am so pleased I opted for Budapest for my surgery. The apartment is very central; Carolyn has been an absolute gem and I have renamed her 'Fairy Godmother' or 'FG' for short. She has been on hand every step of the way - from the moment I landed at the airport - to checking up on me every day and helping with everything.

Came to see me straight after surgery in the hospital too....must be horrible for her to see us all bloodied and puffy and mummified and out of it!!! I have given her the day off today...haha - FG must have other more pressing things to do! One thing the operation hasn't done is put me off my tipple, but eating has been hard (no bad thing - good for the diet). The lips have been very swollen and bruised and I have a few ulcers too, but I have to say that the chilled white wine goes down a treat!


22 April 2010 - Diary of a face lift on Budapest, Hungary
More walking and sightseeing....can't get enough of the place. Need to go to clinic for removal of some stitches and arrange to meet Carolyn for a tea and cake to die for, somewhere near the clinic. I get lost and poor Carolyn has to talk me through where to go via the mobile phone. Carolyn took me to 'The New York Cafe' ....what a lovely place and what delicious coffee and cakes.....we HAVE TWO PORTIONS !!! The interior of the place looks somewhat like the Sistine Chapel

I see the surgeon ....he must be tired...has had a very long day. He takes out several stitches yeah!! ...but also left several in which will have to come out once I am back home. The relief after the removal of the stitches is fantastic! Early night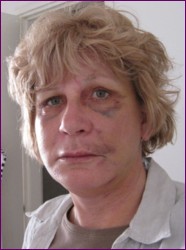 23 April 2010 - Diary of a face lift on Budapest, Hungary
More of the same....but feel a little weary today....probably over done all the walking etc.

24/25 April - final two days resting and enjoying Budapest - feeling much better now and looking forward to going home.

26 April 2010 - the driver collects me from the apartment that has been home to me for the past two weeks - Carolyn sees me off - to the airport and goodbye to Budapest!

End of Diary.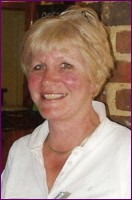 Some recommendations:
Take a laptop with you. Lots of reading matter; an Ipod or mp3 player; DVDs are a must as the TV is mainly in
Hungarian (with only a couple of English language channels)
If you have a hobby that is portable...take it along - knitting; embroidery; painting; writing ; puzzles; crosswords etc
Also:
the support/compression head garment you are fitted with the day after your operation (if it's a face/necklift) - wear it at night after the surgeon takes it off as it feels very supportive. (you don't have to wear it tightly)