Countries
| Budapest
| Reviews
Linda Briggs
Cosmetic Surgery & Dentistry in Budapest Hungary
Reviews and testimonials for cosmetic surgery and dentistry

MY FACELIFT DIARY - Budapest with Linda Briggs -
October 2011
Gill, 52, face, neck lift, neck liposuction, fat transfer to naso-labial folds, Radiesse (long lasting filler) to above lip lines.

Lynn went with Gill to give her support and you can read Lynn's diary here
30 September 2011
Email from Carolyn reminding me to look at what I need to take to Budapest with me – I must get some Senokot & paracetamol.

Just over one week to go! Feeling apprehensive as I've just recovered from Bronchitis, but Carolyn is always there for me reassuring me, sending me lovely views of Budapest and letting me know how other patients are doing – nothing is too much trouble for her.



Saturday 1 October: Laid clothes and toiletries out in spare room – tick sunglasses –tick scarf, tick tops that button through – made mental note not to forget Senokot and paracetamol.

Sunday 2 October: One week before me and Lynn fly out – made sure I've washed the clothes I need to take – this all feels surreal.

Monday 3 October: Email from Lynn asking me how I feel with only a week to go! I said I was scared in case I didn't wake up. Good old Lynn told me not to be silly of course you will wake up – don't have anymore silly thoughts and she's right that's why she's coming with me.

Tuesday 4 October: Well I had to chuckle, strict instructions from Carolyn no stress this week! I'll be lucky!!

Wednesday 5 October: Nothing to report!

Thursday 6 October: Lisa my hairdresser is coming to do my hair before 'D' day – cut and colour!!

Friday 7 October: Last day at work – not sure how I feel! - Lisa has done a great job with my hair and is going to come over again once I'm home to change the style – Carolyn telephoned to make sure I was OK.

Saturday 8 October: Lynn arrived, sorted our case. Ly nn's as nervous as me!! We plan to leave for the airport by 10.00am tomorrow.

Sunday 9 October: Arrived at airport at 11.00am no hold ups, two hour flight, and Carolyn is waiting for us – she's as lovely in person as she has been over the email. Apartment lovely, Carolyn had made sure we had the essentials in so we could have a coffee. She will call for us tomorrow at 7.10am. Me and Lynn went for our last super at the restaurant below the apartment. At the back of my mind I'm worrying about Lynn because if anything goes wrong she will be the one left having to tell John & my family. I push the thoughts from my mind and enjoy our meal.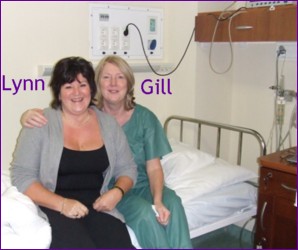 Monday 10 October: 'D' day
Carolyn arrives early - I've showered with Hibi wash.

Taxi takes us to the clinic/hospital. All the nursing staff are lovely – first bloods are taken, didn't feel a thing then off for chest X-ray, two taken, one from the side, one from the back – then an ECG, all of which made me feel very confident.

Back to my room, two beds one shower and loo all absolutely spotless

The surgeon arrived and asked what I wanted doing, my neck and chin I hate!! He was lovely, said he would do liposuction, but was not sure how good that would be, explained incisions in front and behind my ears, avoiding hair line as the hair would fall out!!. Really glad Carolyn stayed with us as I had forgotten about Marionette lines and nasolabial folds but she hadn't and jumped in and told the surgeon.

All go - Pre-med given and within 10 minutes porter came and I was wheeled down to theatre. The porter put some kind of meshing over my hair – I did laugh what a picture I must have looked as the surgeon had drawn on my face and now with the meshing – both me and the porter had fits of giggles.

Theatre staff all great - hair tied back – I think that was the most painful part of the procedure! Next thing I know I'm back in my room all over. Desperate for a wee, don't know why as I hadn't had anything since 8.30 the night before. As usual my blood pressure very low so had to use a bedpan. What is it - so desperate but can't go, eventually wow relief. No pain in face though - great.

Shift change, but night staff are equally as nice nothing is too much trouble for them. Had to press buzzer four times for loo and once for painkiller and that was for a headache rather than anything to do with the op. Slept relatively well and Carolyn popped in to see me just as she said she would and very kindly bought me a plant, little ornament and a card.



Tuesday 11 October:
Breakfast arrived with a much welcomed cup of coffee. I knew it would be difficult to eat the roll as I couldn't open my mouth very much (most unusual for me), anyway I broke bits off and squashed it flat and pushed it between my teeth – boy did I need that.

Carolyn arrived and was surprised I looked so well, followed by surgeon who took the dressing off, his face was a picture I could tell he was pleased. He showed me in the mirror Wow I have a chin and my turkey neck has gone fantastic! He was so pleased he called Carolyn in to see his work – she couldn't believe it! He said the lipo had been a great success 50g of fat normally can only get 20g!! I'm bruised but not as much as I had expected – Now the sexy head gear which has to stay on until Friday. Given anti-clotting injections to take back to the apartment – poor Lynn another job for her.

Wednesday 12 October: Neck itching getting impatient now can't wait to get the head brace off. Lynn has been fantastic going to the shops, washing clothes, making drinks, cooking and sticking needles in my tummy (I think she enjoyed that bit).



Only one more day then the head brace comes off! Carolyn called round this afternoon we all had a good laugh, Jelly & ice cream!! I'm glad only one more day going stir crazy!

Both in bed by 8 although chatted on until 10pm. I really think you need company when having this surgery, but obviously someone really close.

Thursday 13 October: Didn't sleep too well last night, weird dreams I guess it's the anaesthetic! Yes! Tomorrow the brace comes off then the hair can be washed - bliss and a little exploring I think!! Have bruising round my mouth, wonder what my neck looks like! Lovely day today sun is shining so at least we can sit on the balcony. Oh my waitress has just put some fruit juice in front of me!

I can honestly say I've not had any pain just felt like I had earache which is more than bearable. Sat on the balcony all day today and had my first glass of wine! Carolyn called in ,will pick us up at 9.10 in the morning. I'll be ready and waiting – cant wait to wash my hair and have a wander if Lynn will let me. Then I must ring John hope he's ok and looking after the dogs.


Friday 14 October: Head brace off yes!!! The surgeon took every other stitch out; I could tell by his face he was pleased with the result. He said something to the nurse who disappeared and came back with Carolyn in tow. He was so pleased he wanted to show her the results. I was amazed I have a chin now and a nice smooth neck. I thanked Dr. K but he thanked me for trusting him!

Back at the apartment – Oh bliss shower and wash my hair its lovely – my face is swollen and my neck bruised but not as much as I expected. I just hope its all back to normal by 26th when I return to work. Surgeon wi shes to see me again on Monday.

Saturday 15 October: Feel really well and we are off sightseeing – Carolyn was right no one stares; she kindly took us to the stop for the hop on hop off bus, but said we would be best to stay on as the ticket is valid for 24hrs so we could go again tomorrow. What a way to see the sights – now for the hour long Danube river trip, lovely, but getting cold now and I am worried as my ears were getting extremely cold so the scarf came from round my neck to over my head.

Bed early we do laugh its only 7pm at home, but we both sleep well.

From then on each day we go sightseeing what a lovely city, we went to the Terror museum, the synagogue – stopped and had coffee and cakes lovely I cant believe how well I feel.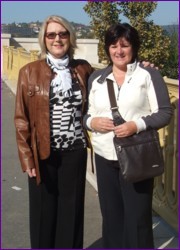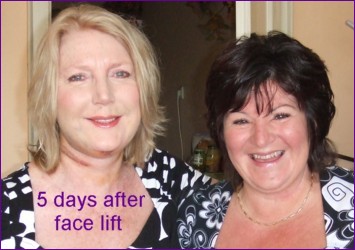 Monday 17 October: Back to the hospital to see the surgeon– he is so pleased with how I am healing he has decided to take all the stitches out – which is great.

Budapest is such a lovely city so much to see, and we only scratched the surface, now Wednesday is approaching and we will be off home – its been a great experience – We always felt we were being looked after never alone. Carolyn left us with a mobile phone which we could use to call her if we were worried about anything no matter what time of day or night.

I followed Linda and Carolyn's instructions to the tee, even to the point of wearing flat shoes something I never do. I'm sure by doing that and having my closest friend with me helped me recover so quickly.